Today we're delighted to share Common Sense Media's review of Smartick! Common Sense Media is the leading independent nonprofit organization dedicated to helping kids thrive in a world of media and technology. They empower parents and teachers by providing unbiased information, trusted advice, and innovative tools to help them harness the power of technology as a positive force in children's lives.

Media and technology are at the very center of all our lives today, especially our children's. The media content they consume has a profound impact on their development. That's why it's important we put quality programs in their hands.
In their review, they highlight what they love the most about Smartick: "the app delivers on depth and breadth of math problem types for the subscription cost. Combine that with the amount of information shared with parents after kids use the tool and you have a winning combination. The game-like features built in to each part of the app also encourage a love of learning math in even the most hesitant kid. For many problems, the tool will read the question and answer choices to kids, which may be incredibly helpful for those who struggle with reading word problems or reading directions carefully."
"Smartick encourages a love of learning math in even the most hesitant kid."
To finish up their review, they also offer suggestions for parents when using Smartick: "families can talk about how we use math daily, especially to measure the world around us. Ask kids to think about how they share time with others. When they hear "you have fifteen minutes left" how do they account for that time? What does it look like on the clock? Can Smartick – Math for children help learn this skill?"
It sure can! Why not give Smartick a try, and give your children some quality screen time? Sign up for our free trial now, and discover Smartick for yourself.
Learn More: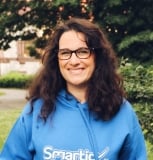 Latest posts by Conchi Ruiz Cabello
(see all)