Smartick Supports the Hour of Code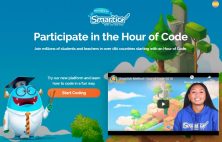 Smartick supports the Hour of Code! A global initiative that takes place during Computer Science Education Week, December 3rd – 9th.
What is the Hour of Code?
The Hour of Code aims to promote programming around the world, demonstrating that anyone can learn the basics and increase the number of children and adults in the field of computer science.
How can I participate in the Hour of Code?
To promote coding, the Smartick team has developed a simple challenge. It's about learning to code with our robot Robby – the main character in Smartick Coding. In 15 minutes you can test yourself and see that anyone can learn programming basics.  
The activity has been designed to be used at home or in schools and it is not necessary to have previous knowledge of programming. The only requirements are a good reading level, basic spatial awareness, and knowing right from left.
Through commands, tutorials, and clues you will become familiarized with block language and computational thinking. You will work with three key elements of programming: sequences, iteration, and conditions. You only need a computer or tablet to concentrate and enjoy!
Since its beginning five years ago, more than 640 million people in 180 countries have participated in the Hour of Code. This initiative is supported by people like Bill Gates, Mark Zuckerberg, Shakira, and former US president, Barack Obama. Join them!
Smartick Coding
Since just before summer, Smartick has integrated the Smartick Coding module into daily sessions of the online mathematics learning method.
There are many benefits of learning to program at an early age :
Develop critical thinking and problem-solving skills.
Creative power.
Help children to develop "basic literacy in the Digital Age" which will allow them to understand the world around them and acquire skills that are in high demand in the job market.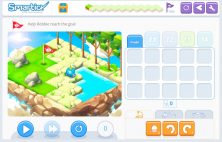 Take advantage of the Hour of Code to learn a bit more about programming and see that it is easy and fun.
Learn More: